Development of the All Nippon Diversity Network 音声読み上げ
In collaboration with MEXT*, the initiative, H.30 Subsidized Project on Science and Technology HR Development "Initiative for Realizing Diversity in the Research Environment (All Nippon Core Institutions (Group))," developed the All Nippon Diversity Network to enhance the environment and capabilities surrounding women researchers and collaborate with and connect institutions nationwide by examining domestic and international best practices, contributing to the development and popularization of diversity and inclusion throughout Japan.
Osaka University will be managing this organization as the administrative lead institution (Participation guidelines (excerpt) (in Japanese only) | Full text (Japanese) |Criteria guidelines (excerpt) (Japanese) | Full text (Japanese).
 *Ministry of Education, Culture, Sports, Science and Technology (MEXT)
Two essential pillars were established to support this organization.
The All Nippon Diversity Network is the first pillar. Institutions will have face-to-face meetings where issues and best practices are shared. To maximize the effectiveness of this initiative, the nation has been divided into eight blocks with administrative lead universities in each block developing activities best suited to meet regional characteristics.
The second pillar is the All Nippon Diversity Network Platform. This platform works toward developing an open, diverse online community by providing information through the web, including practical examples for realizing diversity, conducting research investigation in cooperation with IBM Japan and the Science Council of Japan, and connecting private companies with female students aspiring to become researchers.
Through the collaboration of the All Nippon Diversity Network, comprised mainly of universities, and the All Nippon Diversity Platform, which includes businesses, a wide-range of information and cutting-edge initiatives can be exchanged, allowing for the promotion of communication among researchers from multiple disciplines. This kind of synergy will encourage diversity through creative thought and dynamism, which can spread throughout Japan and draw in new members.
With the collaboration of the above "real" and "virtual" networks, this initiative will be conducted nationwide.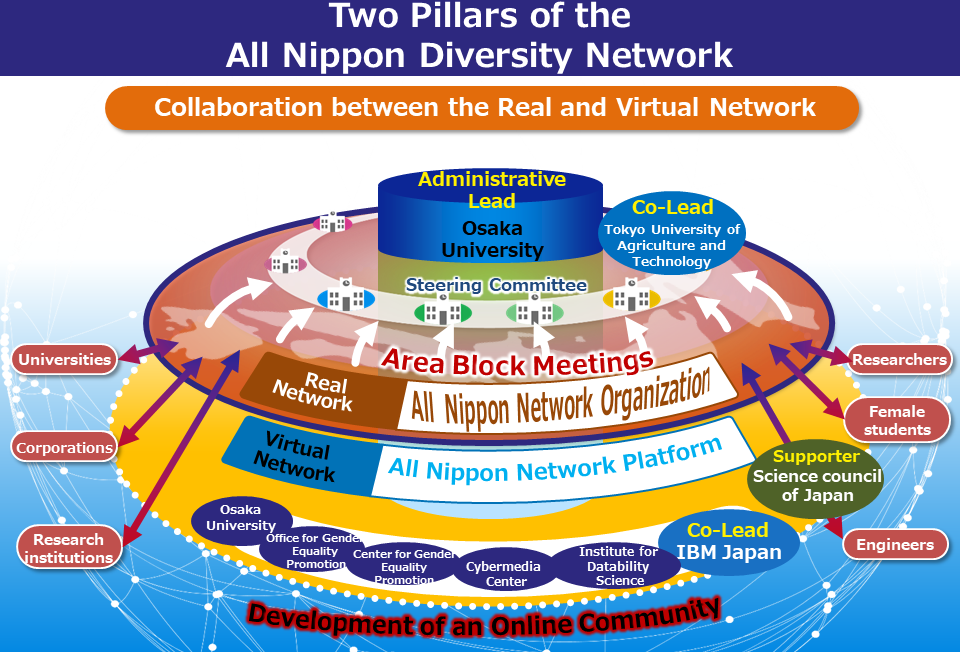 The meaning behind the All Nippon Diversity Network Logo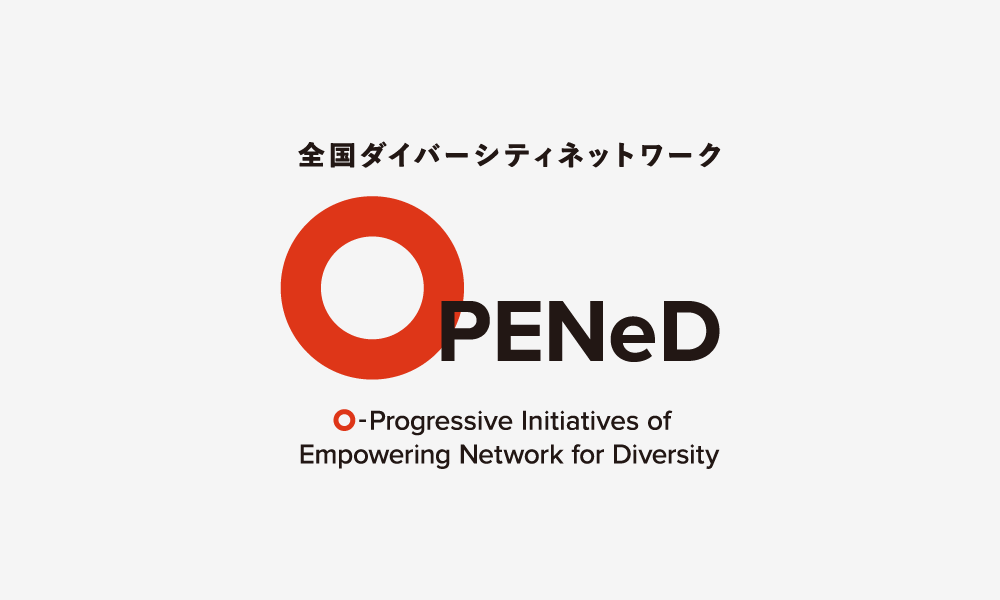 "OPENeD" stands for "Progressive Initiatives of Empowering Network for Diversity."
We added an "O" to show the All Nippon Diversity Network's commitment to transparency and inclusion, and that it is an open platform for diversity for communities, industry, and institutions worldwide.
At the same time, as the value of "openness" was chosen as a key concept for Osaka University's "OU Vision 2021," we chose this same value to represent the All Nippon Diversity Network to show Osaka University's strong commitment to this initiative.
The color scheme of the "O" reflects the UN's Sustainable Development Goal 5: "Achieve Gender Equality."